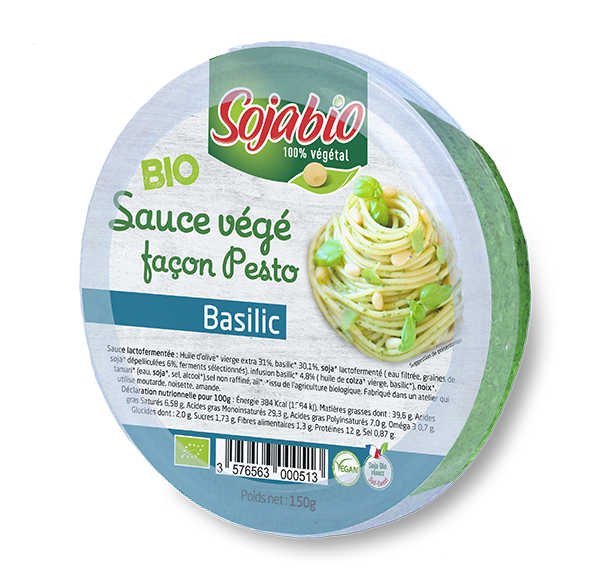 The revisited and 100% plant based version of this classic of Italian cuisine.
This sauce, which exudes all the freshness of Basil, can be mixed with your pasta, rice or vegetable dishes; flavor your cakes, savory pies; garnish grilled toast…
Our plant based Sauces are made from organic and local lactofermented soybeans. They are gluten-free, lactose-free and GMO-free.
Extra virgin olive oil* 31%, basil* 30.1%, lactofermented soy* (filtered water, dehulled soybeans* 6%, selected ferments), basil infusion* 4.8% (virgin rapeseed oil*, basil*), walnuts*, tamari* (water, soya*, rock salt, rice*4%, ferment), unrefined salt, garlic*.
*from organic farming
Allergens: made in a facility using that uses mustard, walnuts, hazelnuts, almonds.
Déclaration Nutritionnelle pour 100g

Acides gras monoinsaturés

Acides gras polyinsaturés
Net Weight : 150 g / Fresh / UBD : 55 days